Welcome!
Welcome at JM verhuur!
JM verhuur is a real estate agency operating in the region of Leiden and we are happy to help you finding a suitable property or renting out your property.
House hunter
If you are searching for a property, you can find our rentals here or search by using the search feature. If you have any questions or if you want to view a property, please contact us by mailing us or call 06-25371583.
Can't you find your property in our rentals? Then subscribe and tell us what you are looking for, so we can search for you and offer you other properties without any obligations.
Landlord
If you would like to rent your property, we would be happy to help you. We will offer your property and do anything to rent it as soon as possible for you. For more information, click here.
We also find our properties at Pararius and Huurwoningen.nl.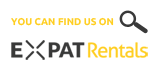 Find us on Only Expats

Do you want to have an impression of Leiden? Watch this video!